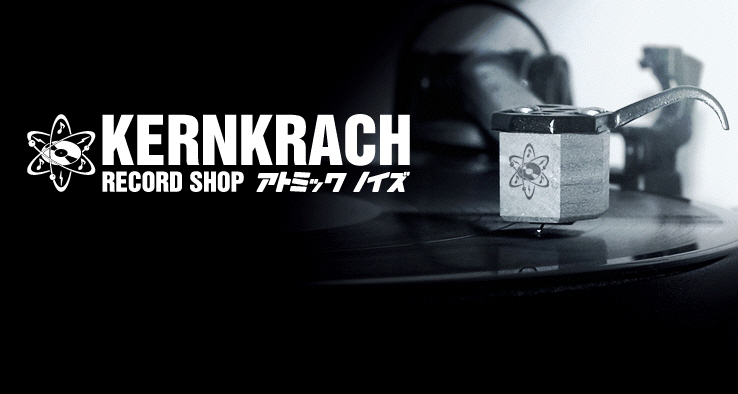 Willkommen im Kernkrach-Shop!
Wir bieten hier neben unseren eigenen Veröffentlichungen auch solche befreundeter Labels aus dem Elektro-Bereich an.
Außerdem haben wir verschiedene Raritäten aus den 80er Jahren im Angebot.
Ergänzt wird unserer Shop durch einige Punk-Veröffentlichungen.
Viel Spaß beim Stöbern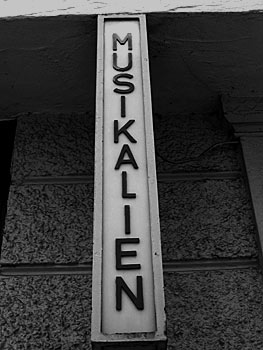 Neuerscheinungen demnächst hier/coming soon:

BEF - Music for Listening to (LP/Winter)
White Horse - The Revenent Gospels (3x7inch/Winter)
High - Functioning Flesh (EP/Winter)
Mecano-Un - LTD Present (LP/Winter)
Frederic Mirage - Timemachine (LP/Winter)
Tannhäuser Gate - Obsession (12inch/Winter)
Contingent - Homme Sauvage (7inch/Winter)
Delos - s/t (LP/May)
Ruble Gang - War Machine (LP/Winter)
Electric Youth - Innerworld (LP/Winter)
Accident7 - Journal Nocturne (LP&7inch/Winter)
ME-109/TV WAR - s/t (3xLP Box/Winter)
Yus Yus - Symbols Of Death (12inch/Winter)
Geometry Combat - Storm of Death (12inch/Winter)
Afire Afire - s/t (EP/Winter)
Theremynt YS Atlov - New Life (LP/Winter)
Amoutacija Ruke - Svuda Ako Nas (Tape/Winter)
Staltrad - Toner Fran Det Stora Alvaret (Tape/Winter)
Essaie Pas - Demain Est Une Autre Nuit (LP/February)
Bill Converse - Meditations/Industry (12inch/February)
Black Pond - Chasms (12inch/February)
V.A.- Kassettentriebtäter Vol.1 (MC/March)
Technophobia - When I´m Alone, I flicker Out (LP/May)
Ash Code - Posthuman (LP/March)
Bill & Murray - A New Kind Of High (LP/April)
V.A.- Klangfarbe - G.D.R Tape Music 1983-87 (2xLP/April)
Bleib Modern - Danse (EP/April-May)
Neon Electronics - s/t /LP/April-May)
V.A.- Minimal Signals (LP/April-May)
V.A.- Niebla Densa-Spanish Synth Wave 1980-87 (LP/April)
X-Quadrat - Kauf dir die Freiheit (LP/May)
Marcie´s Still Waiting - From East To West lim. edition 60 (LP/April)
Brusque Twin´s - Trashbag (12inch/April)
Effetto Joule - Mechanic Soldier (LP/June)
Severed Heads - Stretcher (2xLP/June)
Derivatives - Forwards, Futures and Options (LP/June)
Rendez-Vous - Distance (12inch/May)
Koban - Abject Obsessions (LP/May)
Maquina Total - Maquina Total (MC/May)
Pola Tog - Rayogrammes (MC/May)
Patience - The Church (7inch/May)




!next up-date Tuesday, 09.May!

ACHTUNG/ATTENTION:
WE ARE ON VACATION FROM 24.May to 05.June! NO EMAIL NO SHIPPING!
out now:
Messieurs Bricolage - Tool Box LP (hertz044)
lim. edition 300 copies, coloured vinyl, silk-screend, hand numbered, insert & art
still hot:
Tata Technikk - Blaskertel Flakka 7inch
V.A.- Sie hat Schenkel wie Godzilla LP (hertz038)
Dada Pogrom - Kolophonium LP (hertz045)



TIPP:
*** Mitra Mitra - Mitra Mitra MC ***
*** Sizike - U Zemlji Cuda LP***



=> radikal reduziert auf/ very special offer for!!!
=> viele Platten & CD´s / a lot of records & CD´s!!!




last arrivals (hot):
Mitra Mitra - Mitra Mitra MC
Sizike - U Zemlji Cuda LP
Verhalten - Never Miss An Opportunity To Miss An Opportunity MC
Captive - The Black Leather Glove LP
Gerten - EP MC
Westend Desaster - Alles bricht zusammen... LP
Portable Morla - Confront The World MC
Coagul - Tot Encaixa Nekofutschata LP
Breathing Problem - Bed Of Sex-Pit Of Tar MC
Unur - No Human Self MC
Unur - Halt And Start MC
Caerulea - The Mess Of Love MC
Endearment - We Are The Factory LP/CD
Endearment - Voulez-Vous Revolter Avec Moi Ce Soir? LP/CD
Sturmvogel Reformorchester - Ade 7inch
Overnight Angels - Take You On 7inch
Stan Allan Band - Whistlin John 7inch

arrivals (last week):
Person: A - Matters LP
Absolute Body Control - Forbidden Games PicLP
Der Plan vs. Der Plan - Deutschland, bleiche Mutter 7inch
Charnier - Charnier LP
V.A.- Sore LP
Mynationshit - Malevolent Charmer LP
V.A.- Cititrax Volume 2 LP
Drab Majesty - The Heiress 7inch
Some Bizarre - Don´t Be Afraid 12inch
Dario Dell `Aere - Eagles In The Night 12inch
Brand Image - Are You Loving? 12inch
Ghibli - I´m Looking For You 12inch
Back in stock:

Absolute Body Control - Wind (RE) Wind 2xLP
The Wirtschaftswunder - Die gute Wahl LP
Super Girl & Romatic Boys - s/t 2xLP
Boy Harsher - Pain 12inch








newsnewsnewsnewsnewsnewsnewsnewsnewsnewsnewsnewsnewsnews:

order more than 50 Euro = 1x 7inch or MCD for free!
order more than 100 Euro = 1x LP or CD for free
(we choose from!)