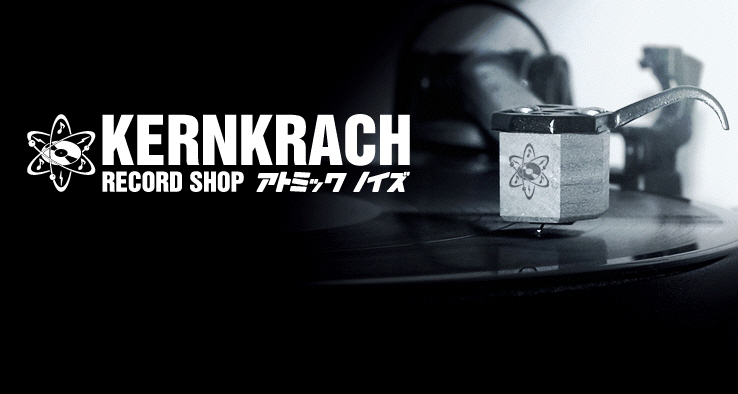 Willkommen im Kernkrach-Shop!
Wir bieten hier neben unseren eigenen Veröffentlichungen auch solche befreundeter Labels aus dem Elektro-Bereich an.
Außerdem haben wir verschiedene Raritäten aus den 80er Jahren im Angebot.
Ergänzt wird unserer Shop durch einige Punk-Veröffentlichungen.
Viel Spaß beim Stöbern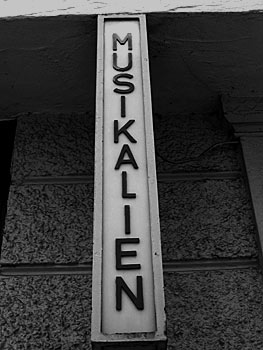 !next up-date Tuesday, 2.May!
Attention: We are at WAVE-TEEF-Festival and vacation!
SHOP CLOSED from 28.April to 1.May!!!
soon (May):
Tata Technikk - Split LP (hertz055)
Deutsche Bank - Auto-Pop LP (hertz048)
out now:
Phase 101 - Durch die Ohren ins Gehirn LP (krach028) !!!
lim. edition 300 copies, black vinyl, hand numbered, insert
LAST COPIES!
still hot:
Staltrad - s/t LP (hertz046)
Tata Technikk - Blaskertel Flakka 7inch (hertz047)
Dada Pogrom - Kolophonium LP (hertz045)
Messieurs Bricolage - Tool Box LP (hertz044)



TIPP:
*** Siglo XX - The Naked And The Death 7inch ***
*** Luzibär - Lebend in der grauen Stadt LP ***
=> Über weitere 100 Tonträger radikal reduziert! very special offer for another 100 records/tapes!!!




last arrivals (hot):
Siglo XX - The Naked And The Death 7inch
Luzibär - Lebend in der grauen Stadt LP
Tumefactum - Tumefactum LP
Bunker City - Bunker City LP
Bunker City - Sinn-Container LP
Brack/Bunker City - Split LP
arrivals (last week):
Adolf Filter - Vik En Femma 7inch
Poligam - Poligam 2x12inch
Trümmerfrauen - Trümmerfrauen LP
Die Tödliche Doris - " " LP
Ironing Music - Ironing Music LP
V.A.- Unruhe 12inch
ORPHX - Archive 1993/1994 2xLP
Monkey Suite - Black Hearts Bleed Red 10inch
Brannten Schnüre - Muschesammlung LP

Back in stock:
Marie Davidson - Perte D´Identité LP
Charles De Goal - Mobilisation & Resistance 2xLP
November Növelet - The World In Devotion LP
Vietnam - Vietnam LP
Atomkrieg - Erstschlag LP

Soon:

Pseudo Code - A Soundtrack From The Underground LP (March/April.)
V.A.- Yugoslavian Space Program LP (Feb./March)
Hertz055 LP (April)
Velvet Kondom - Kalter Lippenstift 7inch (May)
Staccato Du Mal - Labios Tremulos LP (March/April)
Autocreation - Mettle 2xLP (April)
Molly Nilsson - Imaginations LP (March/April)
V.A.- Domestic Sampler Umyu LP (April)
Animal Youth - Animal LP (April)
The Father & The Sun- Remember 12inch (April/May)
Man Machine - Man Machine 12inch (April/May)
Vandalaze - Bodyslime 12inch (April/May)
V.A.-Aletory Chaos LP (April/May)
Sturm Café - Es geht 12inch (June)
Recht Herzlich - Recht Herzlich LP (May)
Philippe Laurent - Phönix 12inch (May)
Deutsche Bank - Auto-Pop LP (July)
Dive - Live Razzmatazz LP (May)
Adbaloons - Mad Motor 10inch (May)
Glass Apple Bonzai - In The Dark LP (May)
Molly Nilsson - Single 7inch (May)
Hante. - Between Hope And Danger LP (May)
Police Des Moeurs - Dedales LP (June)





newsnewsnewsnewsnewsnewsnewsnewsnewsnewsnewsnewsnewsnews:

order more than 50 Euro = 1x 7inch or MCD for free!
order more than 100 Euro = 1x LP or CD for free
(we choose from!)