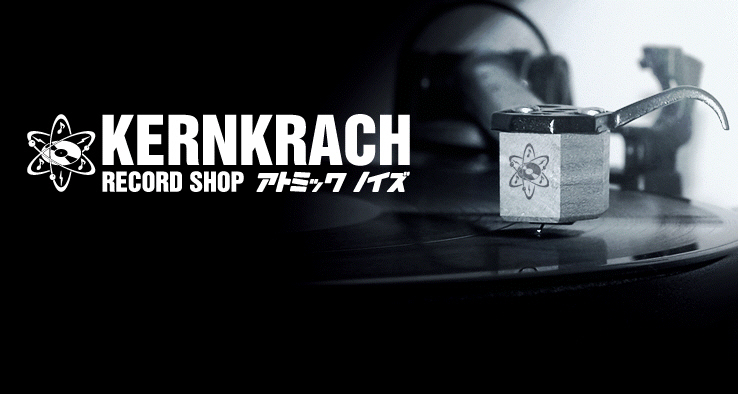 Willkommen im Kernkrach-Shop!
Wir bieten hier neben unseren eigenen Veröffentlichungen auch solche befreundeter Labels aus dem Elektro-Bereich an.
Außerdem haben wir verschiedene Raritäten aus den 80er Jahren im Angebot.
Ergänzt wird unserer Shop durch einige Punk-Veröffentlichungen.
Viel Spaß beim Stöbern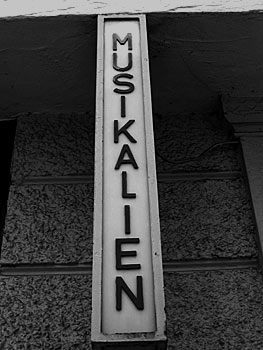 Hier geht es zum Record - Shop in Münster

next up-date Sunday, November 27th!
Kernkrach in Münster:
KERNKRACH RECORDSTORE
Hansaring 5
open: 12am-6pm
(wednesdays, fridays & saturdays)




out now:
*** Pertrix Werke - Monoton 7inch (Nancy3) ***
still hot:
V.A. - Swedish Radar Controll LP (hertz077)
die Automne - Hinding In The Disco 7inch (hertz065)
Mojo Beatnik - Mojo Beatnik LP (hertz070)
V.A. - Miniroboter 2 LP (hertz068)
En Suite Cabinet - s/t LP (hertz063)
Schwarz-Weiss Fraktion - Einfach Nichts LP (hertz064)
V.A.- Lieder, die kein Label wollte LP (hertz062) - last copies!
Widdendream - Wave Of Silemce LP (hertz061)
Pleasure Victim - Stadt aus Glas 7inch (Nancy2) last copies!
Mängelexemplar - Non Plus Ultra LP (hertz060)
V.A.- Pop, die Platte LP (hertz10965)
TIPPTIPPTIPPTIPPTIPPTIPPTIPPTIPPTIPP:
*** Pertrix Werke - Monoton 7inch ***



hot-hot-hot-hot-hot-hot-hot-hot-hot-hot
=> Über weitere 1000 Tonträger radikal reduziert! very special offer for a lot of records/CD/tapes!!!


last arrivals (hot):
Pertzrix Werke - Monoton 7inch
Je`Taime - Aggressive LP
Majestoluxe - Dry, Cold & Free LP
Areu Areu - Areu Areu LP
Fehlfarben - ?0?? LP
arrivals (last week):
Haus Arafna - You LP
The Actors - Reanimated LP
Minuit Machine - 24 LP
Euroshima - Gala LP
The Local Moon - The Local Moon 2xLP
Radko - The Dirt On Caligula LP
Page - Glad LP
Roberto Auser/Melting Dogmas - Split 12inch
Yvonne - Yvonne LP
Yvonne - Getting Out, Getting Anywhere LP
Model Alpha - Perceptions LP
Back in:
Synth-Kids - Book
Rosa Beton - Rosa Beton MC
Dada Pogrom - Happy Happy Happy 7inch
Tube Alloy - Tiube Alloy LP
Schulverweis - Suppe LP
ON-BRR - s/t LP
Neon - Information Of Death & Oscillator 2xLP
Solid Space - Space Museum LP
V.A.- Italia New Wave LP
Linea Aspera - Linea Aspera LP
Malaria - Kaltes Klares Wasser 10inch
IKO - 83 & Extra Studioworks 2xLP
Handful Of Snowdrops - 1984 The Complete Four-Track Recordings LP
De Fabriek - Blecheintopf LP
Laura Krieg - Vie Magique LP
Soon:
Second Planet - s/t LP (December)
New Haunts - Still Dark Sky LP (November)
Echo West - Reincarnation Of Doubts LP (February)
Harsh Symmetry - Display Model LP (November)
The R.I.P.ped Nancys - Never 7inch (December)
Akkumuller - Stand And Deliver 7inch (February)
Sigbefia Five/Formal Defect - Behind Impuls Records 12inch (January)
More Ephemerol - Fertile Energy 12inch(January)
JG Outsider - JG Outsider 12inch (January)
Her Absence Fill The World - Dead Hands 12inch (January)
Selofan - Partners In Hell LP (red&black - November)
Harsh Symmetry - Display Model LP (November)
Buzz Kull - New Kind Of Cross LP (November)
Sprung Aus Den Wolken - Sprung Aus Den Wolken LP (November)
Patrick Cowley - Malebox LP (November)
and many more!
newsnewsnewsnewsnewsnewsnewsnewsnewsnewsnewsnewsnewsnews:

order more than 50 Euro = 1x 7inch or MCD for free!
order more than 100 Euro = 1x LP or CD for free
(we choose from!)